Dance tour in India: come and have one of the most amazing experiences of your life!! Leli and myself we want to inspire you by all the adventures we have lived together in India… and get you to the most real and special one possible.
Our proposal is for you to experience India from our point of view, with more than 9 years of adventures there and, of course, with the best guidance ever: SAMSARA ROADS. We will be 4 luxury companions with all of you caring, sharing and living real India. Furthermore, Dance Tour in India, as its name indicates, is not just a tour… but we will also study dance together, exactly 12 hours of immersion in Indian fusion dance to create a magnificent Dance Video in the Thar Desert as the culmination of the journey.
Ready? let's go!!
Dance Tour, February 2024, with Leli and Elizabeth
Arrival in Delhi
Delhi
Delhi to Jaipur
Jaipur
Jaipur to Udaipur
Udaipur
Udaipur
Udaipur to Pushkar
Pushkar
Pushkar
Pushkar
Pushkar
Back to Delhi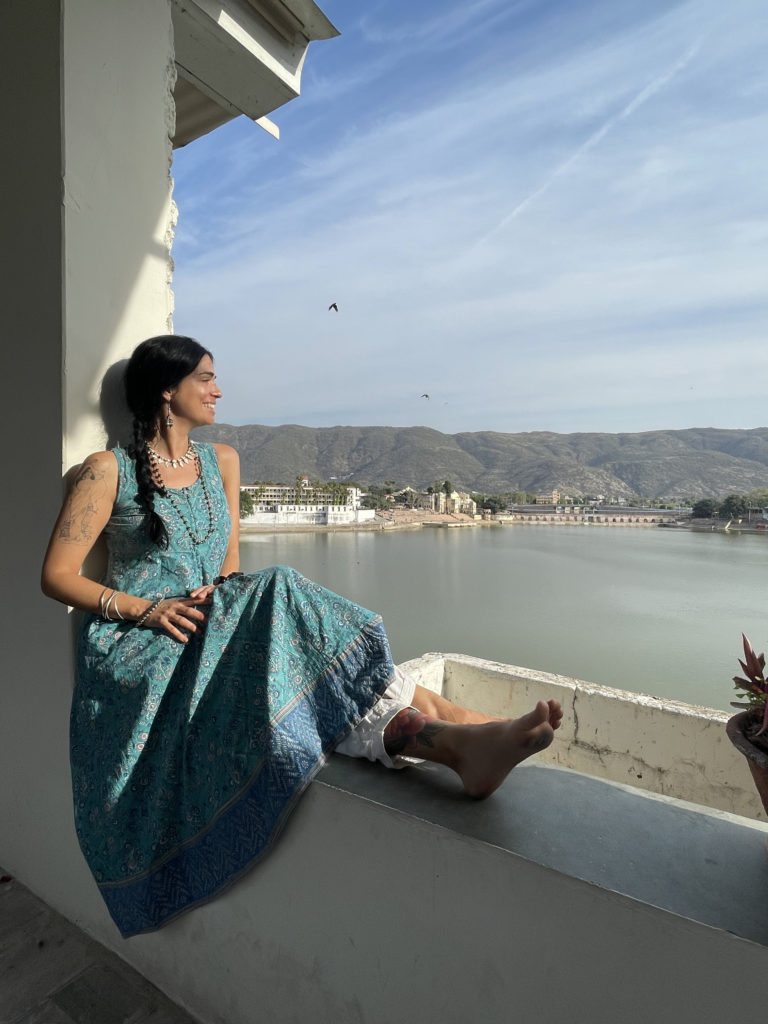 Arrival in Delhi
The tour will start from 12 noon on this day, so you are asked to be in Delhi by this time: you will be picked up at the airport by one of us.
First we will have lunch all together. After a short briefing, where we will share some important information and tips about the tour, we will start to explore Paharganj, one the historical neighborhoods of Delhi, and walking in its crowded lanes and markets we will reach the Qadam Sharif, one of the least known monuments of Delhi: here, in this ancient muslim shrine, deep in the old part of the city, a stone with the footprint of the prophet Mohammad is being kept since the 13th century.
There will also be enough time to buy a sim card (if you need it) and to change/withdraw money.
Dinner in a vegetarian restaurant.
This one will be a pretty long and intense day. After breakfast (with fruits, juice, biscuits and chai from a street vendor) we will reach the hearth of Old Delhi by metro.
Here we will visit: the oldest jain temple of Delhi, a charitable hospital for birds, a Sikh gurudwara, the largest spice market of India, and a 400 year old mosque.
After lunch, which will be had in an historical Mughal restaurant of Old Delhi, we will guide you in the narrowest lanes of the muslim quarter, where the only female sultan of India lies buried since the 13th century. Nearby we will visit also the Sufi shrine of Turkman Shah Bayabani, and tell you of the many rituals (and even exorcisms) that take place in this secluded spot.
We'll be back in the hotel by 4PM. Before dinner, in your free time, you can do some shopping in Main Bazar Road.
Early morning train to Jaipur: departure around 6AM, arrival around 11AM. We will travel in a coach with air conditioning (either 3AC or AC Chair class). Breakfast will be served onboard.
After lunch, visit of the Pink City, the commercial and artistic heart of Jaipur, where every block of this huge open-air bazaar is dedicated to a specific product: gems, jewelry, carpets, fabrics, etc. Some of the shops are housed inside beautiful, decorated havelis (the traditional mansions of northern India).
Later, before dinner, you will have some free time that you can chose to spend however you like, for instance by visiting on of the most prominent monuments of Jaipur, such as the Hawa Mahal, the City Palace or the Jantar Mantar.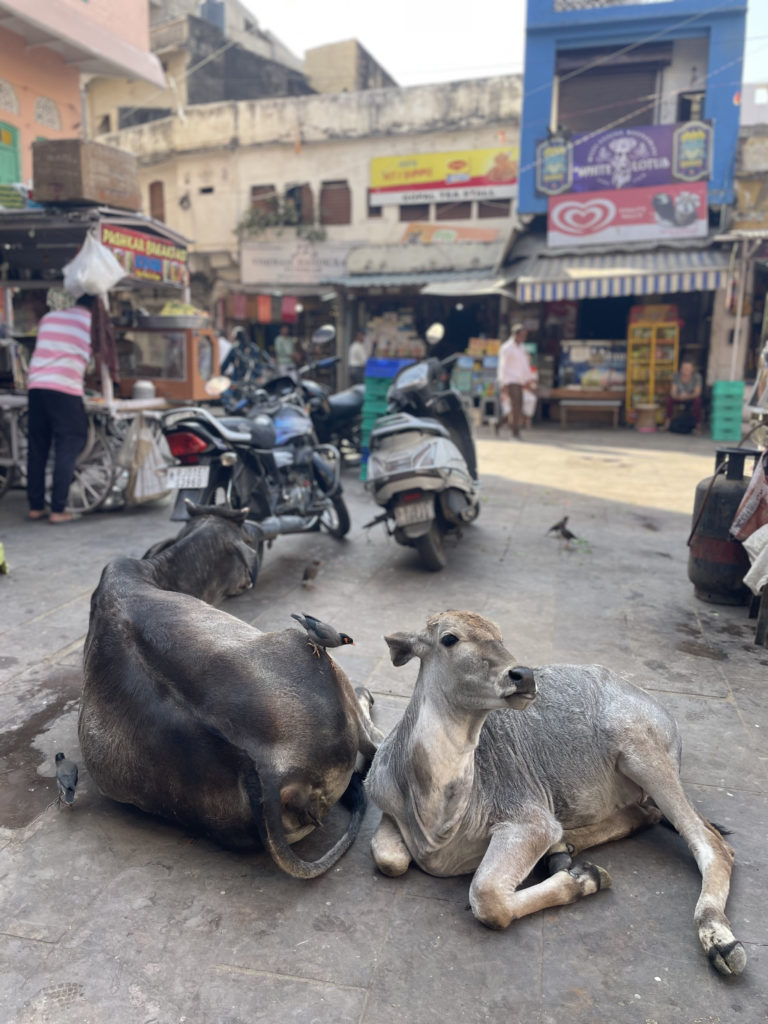 In the morning there will be a block-print workshop in a factory outside of Jaipur. Block-printing is one of the traditional printing techniques of Rajasthan, nearly extint only a few decades ago, where hand-carved blocks (usually made of wood) are dipped in color and pressed on to the fabric.
First you will be showed how to use this technique, later you will have to do it yourself! Each participant will be given a white shopper bag to print with the colors and patterns she likes.
After lunch, when the workshop is over, we will move to a nearby showroom of block-printed fabrics: here you can chose the fabric you want and get a customized dress made by a tailor.
Early morning visit to the Amer Fort, once seat of the mighty Kachwaha Rajput: this 400 year old citadel hosts a "Palace of Mirrors", a parade ground and audience hall, many different chambers for the wives of the king (twelve at a time!) and an ancient cooling system with water channels and nets of aromatic grass hanging from the doors.
After the visit we will catch the train to Udaipur. It will depart around 2PM and reach our destination around 9:30PM. We will travel in AC class. Dinner will be served onboard.
After five days in Delhi and Jaipur, we'll enjoy a more peaceful and relaxed atmosphere in Udaipur, one of the most beautiful cities of Rajasthan, set around two main artificial lakes, and full of traditional havelis, royal palaces and temples from the 16th century onwards.
In the morning we will visit the City Palace complex, on the bank of Lake Pichola, once the main seat of the Mewar Kingdom: it is comprised of eleven different palaces, all of them beautifully carved in marble and granite.
After that, darshan in the jain temple of Shree Keshriya.
Free time in the afternoon.
In the evening we will attend a folk dance show in an old haveli near the lake: different kind of dances, from different rajasthani tribes, will be displayed.
This morning, by public bus, we will reach the nearby town of Eklingji, only some 20kms from Udaipur, where one of the most beautiful temples of India stands, visited everyday by hundreds of hindu pilgrims. Eklingji (a form of Shiva) is the tutelar deity of the Mewar kings of Udaipur. Many more ruined temples, both hindu and jains, stand in the vicinity.
Back in Udaipur, the afternoon will be free. At sunset, if you want, you can go on a boat ride on the Pichola Lake, or watch it from one of the many rooftop bars of Udaipur.
Early morning train to Ajmer: the train will leave at 6AM and reach by 11:10AM. From Ajmer transfer to Pushkar by rickshaw or taxi (another 30-40 minutes).
Pushkar is a holy town, especially revered by the followers of Brahma, set around an artificial lake that is believed (in hindu mythology) to have been formed by the teardrops of Shiva after the death of his first wife, Sati. Many temples, havelis and shops surround the holy lake, which is also used to deposite the ashes of the dead after cremation, together with some crushed bones.
Here in Pushkar you will take dancing classes with Leli and Elizabeth, everyday from 9AM to either 12 or 13PM (si pones PM/AM no se pone 13 sino 1). Only today, because of the late morning arrival, the class will be held in the afternoon, from 3PM to 6PM.
Leli and Elizabeth, both professional dancers who studied Indian classical and folk dances for many years, will teach you a choreography of Indian fusion dance. In their words: "in this experience we'll explore, through the disciplines of yoga, conscious breathing and Indian fusion dance, the empowerment of movement in a beautiful and holy place. In Indian fusion dance we have an integrated and respectful point of view about the fusion of Indian "mother dances" and their connection with belly dance and tribal dance. That is how we develop the specific contents and nuances that are part of our movement code". They will offer you 14 hours of training + a final dance video project filmed in the Thar desert. 
Unlike the rest of the tour, in Pushkar only breakfast will be included in the package. For all other meals, from the lunch of day 8 to the dinner of day 12, you can decide where and when to consume them. The only exception will be the dinner at the Kalebelia camp, of day 9, which will be included in the tour package.
Dancing class from 9AM to 12PM.
Free afternoon.
Around sunset we will go to the camp of the Kalbelia, a snake-charming tribe of the Thar desert, just outside the city. Moira, a woman of the tribe, will teach us her traditional form of dancing, and after dinner, which will be served in the camp, she will give an exhibition for us. This dance, accompanied by few drums and flutes (the poongi, used by snake charmers), is meant to evoke the movements of a snake. The dancers wear silver jewelry and garments embroidered with tiny mirrors and silver threads.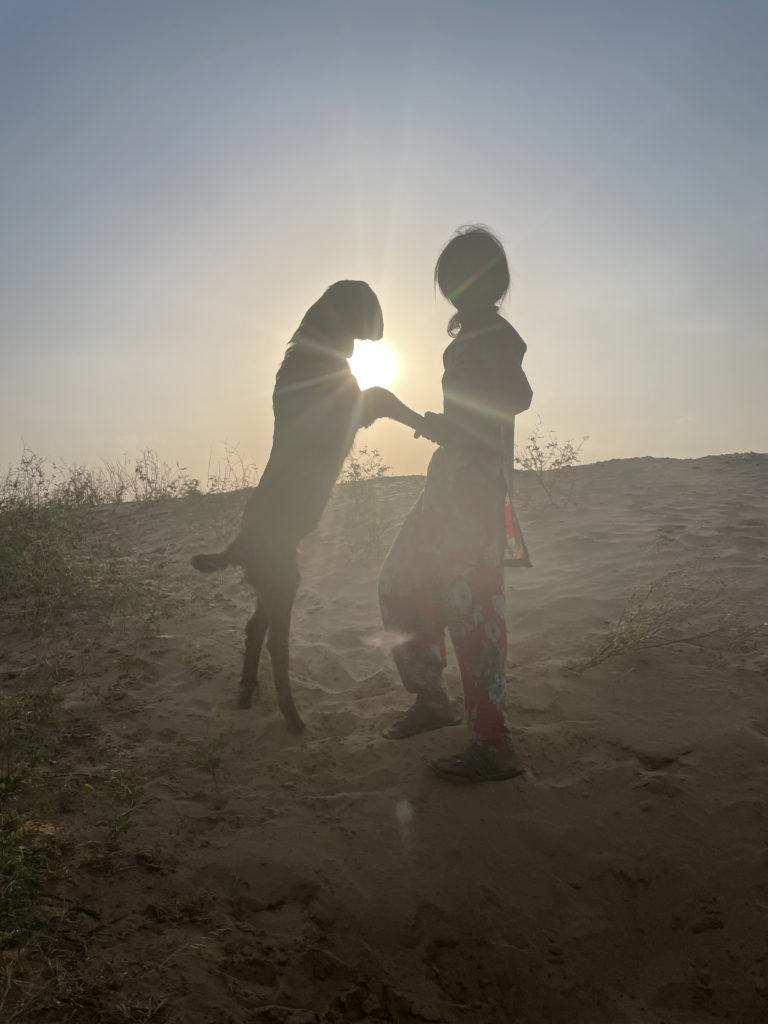 Free afternoon.
At sunset we will climb one the hills surrounding Pushkar, where a temple of Gayatri (wife of Brahma) is found. From here, if the weather is clear, we can enjoy the best view in Pushkar!
For dinner we will move to the Mela ground, where the world-famous camel fair, held every year in November, takes place: here we will have dinner in a dhaba (roadside eatery, typical of Indian highways and villages).
Dancing class from 9AM to 13PM.
Free afternoon.
At sunset, by the holy lake of Pushkar, while the sun goes down you will enjoy the power of drumming the Nagara, one of the oldest drums of India with the masters of Rajasthan, the Solanki family.
Dancing class from 9AM to 12PM.
In the afternoon the choreography you studied with Leli and Elizabeth will be recorded by a professional video-maker. The location will be the Thar desert, just outside the town.
Early in the morning, after breakfast, we will say good bye. You will take a taxi back to Delhi, straight to the airport (if you are flying today) or to an hotel of your choice (if you wish to stay longer in Delhi or India). From Pushkar to Delhi airport it should take around 7/8 hours.
Sign in now here and get the experience of your life!
ONLY 10 SPOTS AVAILABLE