ITALY – Leli Neeraja – Elizabeth Medina
We are pleased to invite you to the first edition of this very special dance retreat, guided by two women and companions who love India and its classical and folk dances. This project is born from the friendship and love we have for India and we are very happy to share it with all of you for the first time in Italy. 
During the retreat we will create together a choreography through the 5 "Indian senses" that will be danced during the Sunday hafla.
Why 5 Indian senses?
We offer you a unique experience of living the Dance with the 5 senses: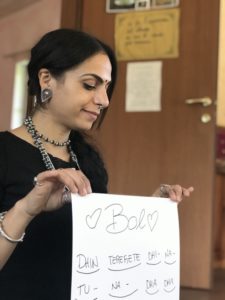 Hearing: The main focus of the retreat will be on RHYTHM. These two days will be marked by a precise rhythm studied by us so that you can experience at 360 degrees the IndOriental® dance. Through rhythm we will explore different dance styles and rhythmic activities.

Touch: We will be immersed in nature for two days and discover how to play with it through dance.

View: After dinner on Saturday, we will offer a show of classical Indian dance Odissi at Villa Govinda Ashram, and on Sunday afternoon we will share a Hafla at Cascina Bagaggera.

Taste: The food we will eat during the retreat will be Prasad (food offered to God), prepared with much care and more love by Villa Govinda Ashram and Cascina Bagaggera.
Smell: Surprise! … we don't want to reveal this point, but we would like to share it at the end of the retreat.